Hiroshi Kuwamura (KUWA)/ Photowriter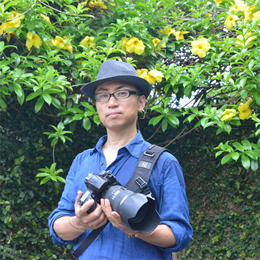 【Profile】
Born in Goto Islands, Nagasaki Prefecture and moved to Okinawa in 2003.
Working as a freelance photographer writer.

*Book: Collection of Photos and Poems "Dialogue with Ryukyu"(Poem by Taichi Hirata, Photo by Hiroshi Kuwamura)
*Photo Contest: Accepted at the Nika Art Exhibition 2014, and many more.
*Photo Exhibition: Held a privatite exhibition of my work mainly on Okinawan traditional performing arts and landscapes of the islands.
*Newspaper Series: "Taira Clan Running to the South and Island Songs"on Nankai Nichinichi Newspaper, a local newspaper in Amami Islands.

"I would like to rediscover more charms of Okinawa hidden deep underneath to share with you."




Facebook Account
Blog
Information